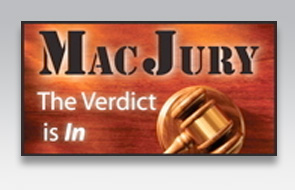 I stayed up past my bedtime last night to be part of a great MacJury panel, which included Jean MacDonald of SmileOnMyMac, podcaster Adam Christianson, blogger Dan Pourhadi, RadTech's John Grzeskowiak and, of course, host Chuck Joiner. The topic, naturally, was the Apple media event where the company unveiled updates to its laptop line and introduced new cinema displays.
On the podcast, I referred to the event as the "Snow Leopard for hardware announcement." By that, I mean that the new offerings don't offer a ton of new features or improvements (the processor bumps are so insignificant they weren't even mentioned, for instance.) The only true new feature I can think of is the glass the-whole-trackpad-is-a-button trackpad. Even the "unibody" construction is a process enhancement, not a new feature, and like its software counterpart, what's new under the hood is essentially designed to make what's there better, not provide new capabilities.
The laptops are also remarkable for what's not there: no more matte screens, no more Firewire on the new MacBooks (although it remains on the "remaindered" $999 white MacBook) and, as mentioned, no more button on the trackpad. For the first time in a long time, the laptops' hard drives are easily upgradeable. The RAM is less accessible than in some recent laptops, but for a good reason: Apple's shipping them with enough to start with (2GB on the new MacBooks, MacBook Air and lower-end MacBook Pro; 4GB on the higher-end models. The $999 MacBook still ships with an insufficient 1 Gig.)
Much has been made of the elimination of Firewire from the new MacBooks. While I may mourn its passing, the writing's been on the wall for some time now: Firewire is considered a pro-level feature, not for consumers. The push to USB 2.0 has been going on for a while and the marketplace has chosen. My last couple external drives have been USB, in fact, because I knew it would give them a longer useful life. If you've got an old Firewire camcorder around, hang on to a Mac with Firewire, or choose a new MacBook Pro if it matters that much to you. Or, use it as the excuse you've been looking for to get a camera with USB or removable media. Go on, you know you want to.
Similarly, we fans of matte displays are going to have to just give it up, because the rest of the world (and now Apple too) seem to have decided that it's a glossy world after all. While purists may howl, and pre-press designers may scramble for matte display shields, the out-of-the-box experience is going to be bright, saturated colors and highly reflective screens. Even the new Cinema LED Displays are going glossy. As of now, though, Power Mac users will not have to worry about the decision — the new displays are clearly and specifically intended for the new laptops only. They use the new DisplayPort connectors and are incompatible with the DVI ports on Apple's desktop lineup. And while you can get a DisplayPort to DVI (or VGA) adapter for your laptop, you cannot (at least as of this writing) get a DVI to DisplayPort adapter for your desktop machine. You can, however, still buy a non-LED Cinema Display; the entire lineup is still available (and promoted on) Apple's website.
The MacJury panel touched on a slew of other issues, as well, including the DRM aspects of DisplayPort, the blurring of the distinction between consumer and prosumer branding (Will that be plastic or metal?), and more. It's a very engaging session from a podcast I'd recommend even if I wasn't part of it. I'm a big fan of the show's rotating panelist format and the concentration on one or two specific issues rather than the more generic "news of the week" approach.
You can listen to this episode directly from the MacJury website or subscribe to the podcast in iTunes.