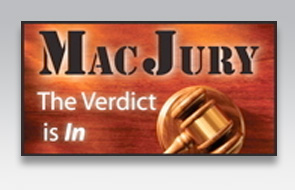 The latest installment of Chuck Joiner's MacJury podcast is up. In it, I take part in a great panel discussion with a stellar lineup of "jurors:" Macworld's Peter Cohen, Tonya Engst of TidBITs and Take Control, John Braun of The Mac Observer, Don McAllister of Screencasts Online and Adobe's Terry White.
It's a lively hour's worth of talk about what's in the update, what's not and a little digging into what's important and why. Panels this large can tend to get a little unwieldy, but thanks to Chuck Joiner's expert choreography and the terrific panelists, the result is a spirited, friendly and fun discussion.
If you don't already subscribe to the MacJury podcast, you should. It's a consistently relevant, interesting and entertaining look at the issues surrounding Apple and the Macintosh.