Rogue Amoeba released Audio Hijack 3, a major update to its audio capture and recording utility. The new version features a completely overhauled interface that makes creating and using recording workflows much easier and looks amazing.
The old: Powerful, but imposing
For years, Rogue Amoeba's Audio Hijack Pro has been an essential utility for capturing, mixing and recording audio traveling through you Mac. And when podcasting took off, Audio Hijack obtained legendary status, making it inexpensive and relatively easy to boost production values, making it possible for indy podcasters to sound like much bigger studios.
But all that power was somewhat hidden behind a skeuomorphic interface of dials, knobs and switches, and the program's tabbed interface made it tough to get a holistic view of your workflow.
The new: Way more than a facelift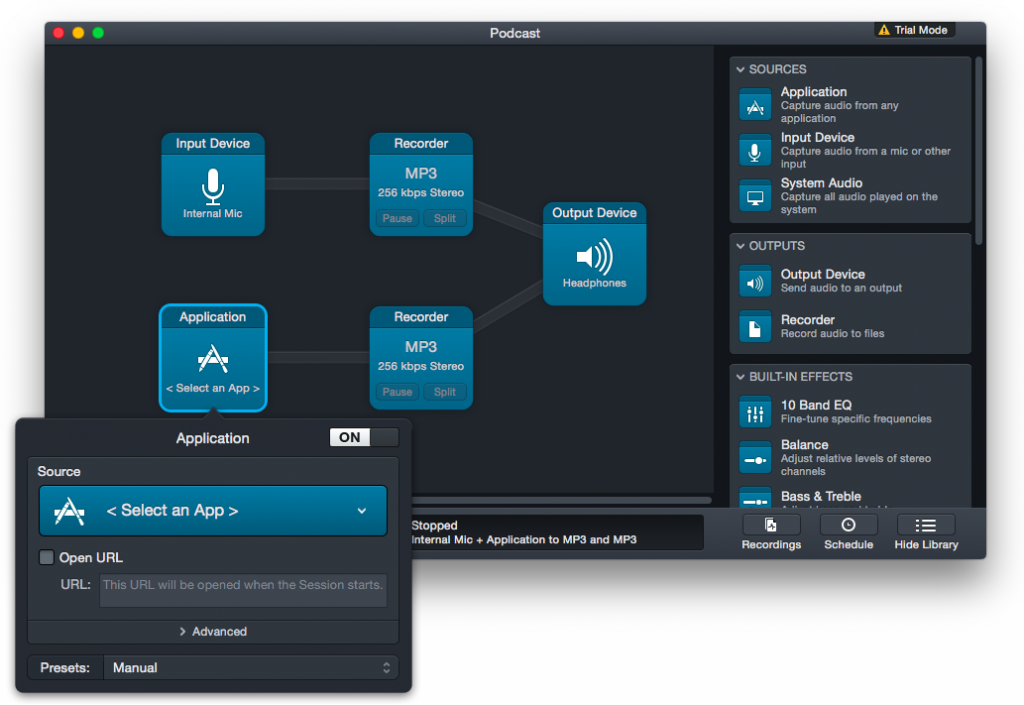 Audio Hijack 3 boasts a completely new interface, not just redesigned but re-conceptualized. The new workflow uses a block-and-grid metaphor that makes it incredibly easy to create a workflow. Want to capture sound from an application? Just drag the corresponding blocks onto the grid and they'll automatically connect. Blocks are organized by sources, effects, meters and outputs. Workflows can be as simple as linking the sound captured from an application to an output as an MP3 file. (Just connect an Application block to a Recorder block.) Or, they can be more complicated: sound captured from mics or mixers routed through effects (applied either individually or by group), through meters and multiple outputs, so you can hear what's being recorded through your headphones. You can even set up parallel workflows to record different inputs to separate files to make editing much easier.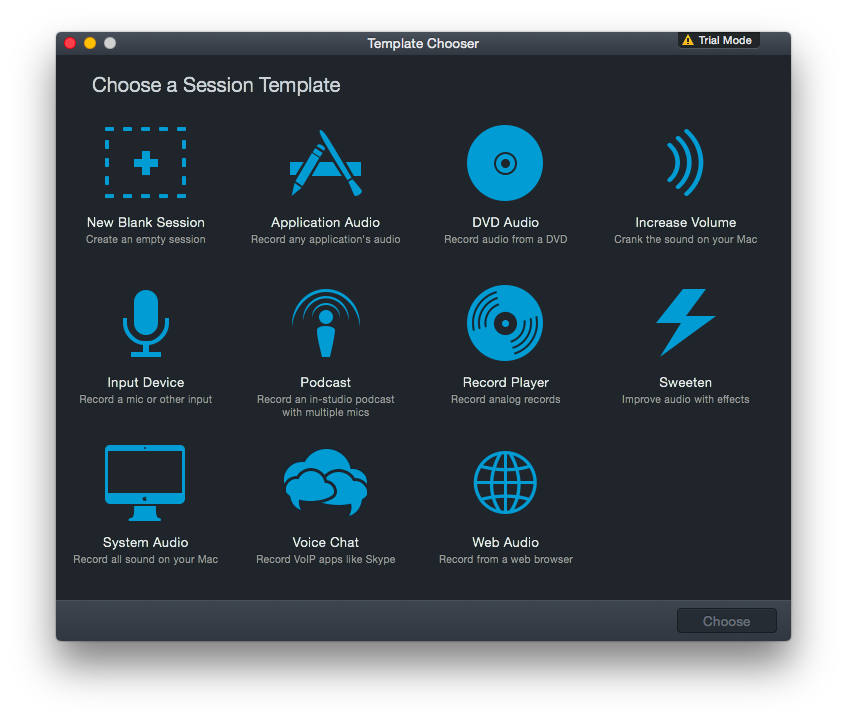 The new interface is amazingly intuitive and makes building workflows fast, easy and fun. Moving blocks makes their connections to other blocks in the workflow update automatically. But the power is still there when you need it — clicking on a block reveals its options Even easier, Audio Hijack 3 comes with a slew of pre-made workflows that cover, or at least provide a foundation for most common recording scenarios. Best of all, workflows from previous versions of the program can be imported into Audio Hijack 3. A playful, tasteful animation indicates when audio is being recorded and where it's going.
Over at The Mac Observer, Dave Hamilton quibbles the absence of one feature of importance to some podcasters:
Audio Hijack 3.0's default (and currently unchangable) buffers provide too much latency between speaking and hearing one's voice come back through headphones. It's not terrible, but depending upon what you're doing it could be between a tenth and half of a second. Short, but long enough to distract one from speaking naturally.
Rogue Amoeba says they're considering adjustable buffers for controlling latency (and other user requests) in future updates.
Beyond the broadcast
So what if you're not a podcaster? Audio Hijack 3 has lots of other uses. You can stream the audio from a website (think BBC Radio, for instance); digitize your old record or cassette collection; or capture a FaceTime chat for posterity. You can even use Audio Hijack 3 to "overdrive" your Mac's audio beyond its usual limit.
A scheduling feature lets you pre-arrange a recording so, for instance, you can record that airing of "Hitchhiker's Guide to the Galaxy" even if it comes on in the wee hours of the morning. (Sadly, H2G2 is not currently on the BBC's broadcast schedule.)
Pricing and availability
Audio Hijack 3 (there's no longer a "Pro" in the name) is available for $49, but Rouge Amoeba has generously set a $25 upgrade price for owners of any previous version. The update is free for anyone who's purchased the app since February 21, 2014.
Audio Hijack 3 is a whole new way of looking at a venerable and powerful audio utility. If you've ever owned a previous version, upgrading is true no-brainer. And if you've ever wanted to record audio on your Mac and haven't tried it, now's the time to buy.
Audio Hijack 3 is available from the Rouge Amoeba website; a trial version is also available.
---
[yasr_overall_rating]
Pros: Gorgeous, modern design; interface
makes building workflows clear, quick and fun.
Cons: Lack of latency adjustment could be
problematic to some recording situations.
---