Apple released an update to its iOS operating system, just a day after it pulled a faulty iOS 8.0.1 updater. The new iOS 8.0.2 update addresses the same issues as the previous version as well as the Touch ID and cell connection issues the update introduced.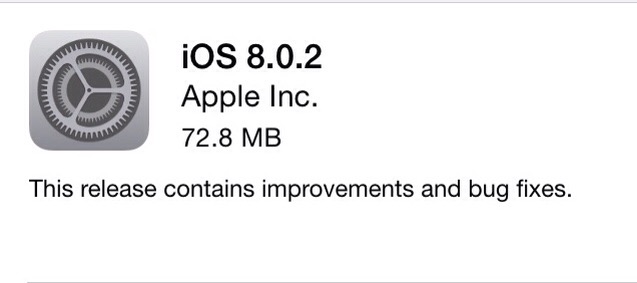 This release contains improvements and bug fixes, including:

Fixes an issue in iOS 8.0.1 that impacted cellular network connectivity and Touch ID on iPhone 6 and iPhone 6 Plus
Fixes a bug so HealthKit apps can now be made available on the App Store
Addresses an issue where 3rd party keyboards could become deselected when a user enters their passcode
Fixes an issue that prevented some apps from accessing photos from the Photo Library
Improves the reliability of the Reachability feature on iPhone 6 and iPhone 6 Plus
Fixes an issue that could cause unexpected cellular data usage when receiving SMS/MMS messages
Better support of Ask To Buy for Family Sharing for In-App Purchases
Fixes an issue where ringtones were sometimes not restored from iCloud backups
Fixes a bug that prevented uploading photos and videos from Safari

For information on the security content of this update, please visit this website: http://support.apple.com/kb/HT1222
Early reports say the updater works as advertised, but as for me — I'll wait until tomorrow to try it.