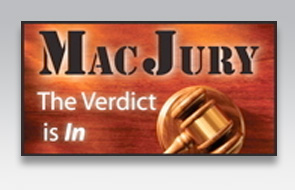 In what may be the most pretentiously titled session yet, I joined a great panel of Mac and technology pundits for the latest installment of Chuck Joiner's MacJury podcast. We discussed Apple's financials for a bit, then launched into our thoughts on what should be next on the feature list of the iPhone. (Voice dialing was a unanimous choice.)
Please forgive some of the choppiness of the audio — we had Skype issues throughout the taping, none of which were helped by the fact that I was connecting from a Boy Scout camp in rural Pennsylvania.
It was a lively and typically fun session. I think the MacJury has found its voice with its lighthearted tone and the occasional joke interspersed with the punditry. This session's panel was a pleasure to be with, and along with host Chuck Joiner, included Jeff Gamet, Galen Gruman and Terry White.